I wanted to know what Scripture has stated about the recent annexation of Crimea by Russia, and I located an article which lays out the larger picture in broad simple and sweeping terms. I have cited the entire essay below.
American leaders have been foolishly lulled into complacency by their assumption that the old cold war days are over, when in fact, Russia has been making covert, strategic moves in earnest to rebuild their military to a point of superiority over Western forces, while two Mideast wars have dragged our own military into disrepair and philosophical disillusionment.
Our far-left leaning president, Barack Obama, has further eroded our credibility among world leaders during his tenure in office. Putin made his move at a moment when he well knew that most likely, western military forces would not put boots on the ground to oppose him. Whether that changes in the next few years, we will see. At the date of this post, there are now 20,000 Russian troops on the ground, massed along the eastern and southern border of the Ukraine. Should Putin choose to begin to march them into eastern Ukraine, truthfully, there would be scant opposition on the ground capable of thwarting a forward push.
Vladimir Putin has made a sudden and bold opportunistic move in western Russia which puts his military just a little bit closer to being capable of a southern invasion of Israel, which is exactly what Ezekiel 38 and 39 states will eventually take place.
Here's the article. Please feel free to share it on your own social networks.
=====
The scriptures indicate that a northern army will invade Israel in the last days. Bible scholars have traced the tribes and have determined that this northern army is led by tribes that have settled in Russia. This prophecy has never been fulfilled so it will be fulfilled in the future.
The details of this invasion from the north are given in Ezekiel chapters 38 and 39. The allies that come with this northern invader are named by nation (tribe). Today most of these nations are Islamic and are enemies of Israel. Ezekiel even lists the countries that will question the reason for this invasion. These nations seem to be nations that come out of the old British Empire and oil rich nations aligned with the West. Ezekiel mentions these nations as Tarshish, all her young lions (English speaking nations), Sheba and Dedan (Saudi Arabia Kuwait). The alignment of nations predicted in Ezekiel is the alignment that we see in that region today. God said He will destroy this northern army that comes against Israel and by doing so He will magnify Himself and become known to many nations.
It says in Ezekiel that at the time of this invasion God will send fire on Magog (Russia) and those that dwell securely in the isles (or coast lands), and from that day they shall know that the God of Israel exists.
Russia is moving toward superpower status again and a new dictatorship
Russia has emerged out of the depression it was in for many years after the fall of the Soviet Union. New growth in the economy due to Russia's rich natural resources will soon bring Russia back to superpower status again. Nationalism, lawlessness and anti-Semitism are rising today in Russia. Most of the former Soviet bloc leaders of the old Soviet Union have come back into power. Over fifty percent of the positions of power in Russia including Putin are former KGB officers.
They lament the fall of the old Soviet Union and they wish to form a new union of nations led by Russia. Putin recently announced that there will be a new Eurasian union and it is expect to be in place by 2014.
There is no longer freedom of speech in Russia. TV and other media are once again government controlled and enemies often end up dead. The new steps taken by Putin to regain centralized control is leading to a dictatorship.
Russia continues to modernize its nuclear weapons and to prepare underground facilities in case of war. Russia has successfully developed a new long range missile that can change directions after launch. These missiles can successfully penetrate the antimissile system shield that is being developed by the United States.
Russia also has strategic ties to regional Islamic countries. Russia is actively aiding Iran in building nuclear power plants that will giver Iran nuclear material for nuclear weapons. The Arab/Islamic countries have one common enemy and at some point they will try to rid themselves of the Israeli presence with Russia as their protector.
The prophecies in Ezekiel 38 and 39 indicate that God will put a hook in the jaw of Russia and bring her down against the land of Israel in the latter years.
The hook could very well be the defense pacts and economic agreements that Russia has established with Syria, Iran and other Islamic nations. In the battle described in Ezekiel, Russia will be the leader of a regional coalition against Israel.
Until this battle Russia will continue to be a world military superpower
The United States had been dismantling its nuclear capability as if Russia were no longer a world threat but Russia's nuclear submarine and missile capability has been modernized and is quite capable of destroying the United States or any adversary. Scripture says that this army from the north will be splendidly attired. This could mean that they will be equipped with every conceivable weapon. Russia still has a large population of educated scientists that could develop formidable military weapons very quickly if that becomes their paramount concern and national focus.
Some think the United States and Russia are no longer a threat to each other, yet Russia almost always takes a position that is contrary to the national security interests of the United States.
Russia exports nuclear technology and advanced weapons of war that they know will be used against the United States, Israel, and the West.
Russia has a world agenda that willfully arms Islamic fascism and rogue dictators to carry out warfare against the West. The major world powers enabling Islamic fascism and other nations confessing hatred toward the United States are Russia and China. Although Russia and Western leaders announced the end of the cold war after the fall of the Soviet Union the recent actions and rhetoric of Russia indicate that the cold war continues.
Signs of the time
Russia is following in the footsteps of Germany before the second World War. National pride and the memory of the empire they once had is now compelling them to rebuild a strong military under an authoritative leader. Putin stepped aside as President for a few years and took the number two position but at the next election he will almost certainly become president of Russia until the time of the Ezekiel war. Putin is gaining more power all the time and he has specifically stated that his primary goal is to bring Russia to world superpower status again.
If we assume that it will take Russia about 10 to 15 years to accomplish the reestablishment of a first class military, it probably is no coincidence that the same amount of time is needed for the Arab/Islamic block to become a real nuclear military threat to Israel.
They will indeed join forces in this battle when Russia invades Israel as Ezekiel prophesied over twenty-five hundred years ago. All indications are that the battle against Israel that is described in Ezekiel 38 and 39, and the supernatural defeat of these forces by God will take place in this generation.
For the latest scholarly research on the prophecy in Ezekiel 39 and 39 read the following free e-book.
The Prophecy That Is Shaping History.org
New Research on Ezekiel's Vision of the End, by Jon Mark Ruthven, PhD (a free 9mb PDF e-book can be downloaded. (The book can also be ordered from Amazon).
The next article is about aliens from outer space or a great deception?
Back to world current events index
The Prophetic Years website | Bible prophecy and Christian Worldviews and Commentary
=====
To read more Christian prophecy articles by Don Koenig, visit http://www.thepropheticyears.com/
To follow developments in our own military visit http://feeds2.feedburner.com/defensenews
[ Re-posted from http://21stcenturyscreenshots.wordpress.com ]
"…. Hopefully what will occur is that cooler heads will prevail…. and this will de-escalate." – US Senator Bob Corker
The ongoing game of "military bluff" between  US and North Korea military leaders is getting deadlier by the day, and neither side seems to be backing down.
We all know what the deadly game of "chicken" is all about, when two speeding vehicles are facing head on, trained upon one another on a collision course, traveling at break neck speed, and the first vehicles to veer away from the imminent head on collision is the "chicken".
It would appear that's where we are here. I'm not comfortable with it, and I wasn't thrilled to learn that the head of our own military command is not actually sure "how our actions [ US Stealth bomber SE Asia fly-over 3.28.2013 ] are being interpreted in North Korea" by Jong Eun. Isn't that like tossing a weapon into the air then wondering right before you catch it  "…wow, I hope this thing's not loaded …."
Can our nation afford the luxury of not knowing how this week's stealth bomber fly-over of North Korean targets would be interpreted by an unhinged, untried, untested young lunatic head-of-state in North Korea? Judging from recent propaganda videos which are emerging from North Korea, the North Korean people are already being whipped up into a frenzy to go to all out war with South Korea and the US.  This has to be a nerve wracking time to be living in South Korea. The video below appears to portray an invasion of South Korea by the North, among other things.
Cited:  "Rodong Sinmun, the newspaper of the North's ruling communist party, said that with "the ceasefire agreement blown apart… no one can predict what will happen from now on".

Voiding the armistice theoretically paves the way for a resumption of hostilities, as the two Koreas never signed a formal peace treaty and remain technically at war.

"The North is giving the impression it wants to put things back to where they were 60 years ago," said Yang Moo-Jin, a professor at the University of North Korean Studies in Seoul.

Experts point out that North Korea has declared the ceasefire dead or obsolete nearly a dozen times in the past 20 years."
It's way past time to de-escalate this ongoing war game and ratchet down the growing tensions. Let's please NOT let this ongoing military PR show get to the point where Jong Eun actually believes that a pre-emptive strike on US soil is a thinkable, doable action that his nation can survive.
Is there anyone anywhere out there in foreign policy [ WHERE is John Kerry right now? ] land who can remind Jong Eun of what will happen to his nation if they let loose a missile trained onto the United States? There are millions of innocent lives at stake here.  Hello???
Cited news report:
North Korea has revealed its plans to strike targets in Hawaii and the continental United States in photos taken in Kim Jong-un's military command centre.
North Korean leader Kim Jong-un (sitting) convening an urgent operation meeting at 0:30 am on 29 March 2013 at an undisclosed location Photo: EPA
The photos appeared in the state-run Rodong newspaper and were apparently taken at an "emergency meeting" early on Friday morning. They show Kim signing the order for North Korea's strategic rocket forces to be on standby to fire at US targets, the paper said, with large-scale maps and diagrams in the background.
North Korean leader Kim Jong-un ordered strategic rocket forces to be on standby to strike US and South Korean targets at any time (EPA)
The images show a chart marked "US mainland strike plan" and missile trajectories that the NK News web site estimates terminate in Hawaii, Washington DC, Los Angeles and what they claim is Austin, Texas.
The text on the map, which shows the west coast of North America, says "Plan to hit the U.S. mainland"
The meeting of Pyongyang's senior military leaders was called after two US B2 bombers, flying out of bases in Missouri, carried out simulated bombing raids on North Korean targets on an island off the coast of South Korea.
"He finally signed the plan on technical preparations of strategic rockets, ordering them to be on standby to fire so that they may strike any time the US mainland, its military bases in the operational theatres in the Pacific, including Hawaii and Guam, and those in South Korea," the state-run KCNA news agency reported.
A U.S. airforce B-2 Spirit stealth bomber flies over Pyeongtaek, south of Seoul, South Korea
It added that the B2 test flights demonstrated Washington's "hostile intent" and said the "reckless" act had gone "beyond the phase of threat and blackmail."
The North's military was placed on its highest alert level earlier this week and a hotline link with the South Korean military was severed.
North Korea has also cut the mobile Internet link for foreign visitors, only weeks after the 3G service was introduced.
North Koreans have held a rally at Kim Il-sung Square in central Pyongyang in support of military actionDespite the increasingly belligerent rhetoric and new images emerging from the North Korean regime, analysts believe its missiles are not capable of striking targets as far away as the US mainland and are not, as yet, capable of delivering a nuclear payload.
The images of Kim surrounded by his officers and diagrams of targets in the US are designed for a domestic consumption and to demonstrate the young leader's mastery of military affairs, experts believe.
Related Posts and Articles
http://www.thisismoney.co.uk/news/article-2301127/Stay-away-North-Korea–war-HOURS-AWAY-Kim-Jong-Uns-chilling-message-British-tour-boss.html?ITO=1490&ns_mchannel=rss&ns_campaign=1490
Full Text of Latest Propaganda Statement from North Korea Published By UK News Website
North Korean Propaganda Artist Escapes and Becomes Satirical Cartoonist Who Lampoons North Korea
North Korean War Propaganda Videos and The Lighter Side of Sabre Rattling
UK News Site Publishes Photos of Kim Jong Eun Signing Off on Plans To Attack US
For more than 55 years the North Korean people have been kept in complete isolation from the outside world, living
in a literal time warp which is frozen somewhere between the late 1940s [ citing many of their fashions ] and the late 1960s. They subsist on a steady philosophical diet of State created fairy tales and carefully crafted mythologies designed by the North Korean department of propaganda to instill awe and worshipful reverence of the Kim family dynasty. This massive lie all began in 1926 with the advent of Kim Il-Sung. Today the charade continues through his grandson, Kim Jong Eun. It's been stated that as many as one million people in North Korea have died due to famine. But no one on the outside knows the exact numbers. That's just an estimate. Funny thing, usually when a million people are passing away from famine, the UN is all over it, it's all over the alphabet news casts and the world begins gathering to DO something about it. Fund raisers kick in, celebrities get on board, and famine relief concerts are broadcast around the world to raise awareness and raise money. It's an odd silence that instead fills the spaces where the world would usually be doing something to help the North Korean people. So into that odd silence I'll interject this photo and video report.
WARNING: Some of the video reports on this page display graphic, explicit, violent or other uncomfortable scenes and imagery which may be disturbing to some viewers.  I had a hard time watching much of it myself.  The content of  some of the videos is appalling to the soul of a free human being. I am not posting this material to disgust readers. I am posting it to educate readers. There is a reason that we love and treasure our freedoms and our civil liberties in the United States. The video reports below provide just a mere glimpse of what happens to a human population in a nation where evil is allowed to flourish for decades on end. These videos cover a broad time period of approximately 50 years or more, including the era of Kim Jong Il, the father of current North Korean leader Kim Jong Eun, aka Kim Jong Un, as well as the era of his grandfather, Kim Il-Sung.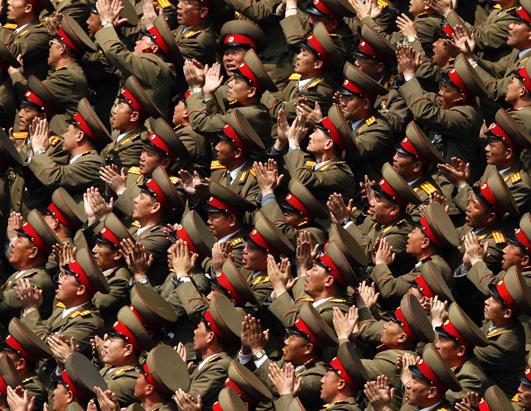 I was taken by the apparent veiled fear on the faces of this family, as they were apparently chosen to pose for a photo with leader Kim Jong Eun. None of them look very happy about it, and the grandmother holding the child looks as if she is about to burst into tears.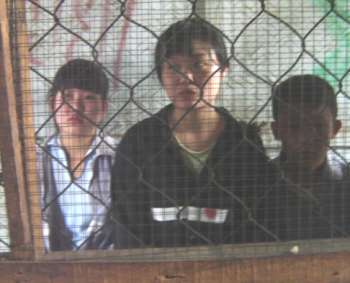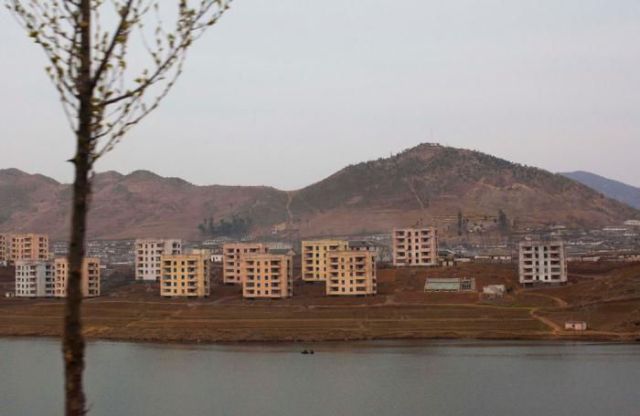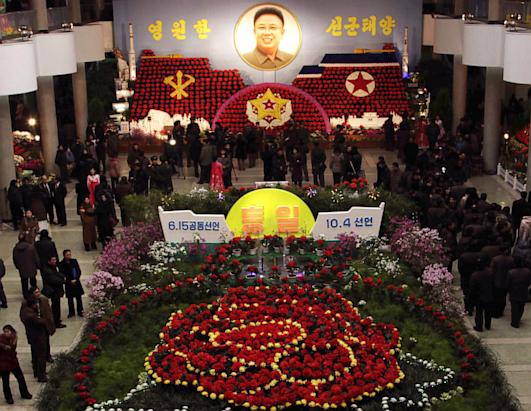 I'd like to add that if there has been a period of "lesser Antichrists" who have made an appearance upon the world stage since the times of Christ, one would have to regard the regime of the Kim family in North Korea as part of that dismally wicked pantheon. The mere fact that this horrific oppression and population indoctrination has gone on for more than 50 years does leave one incredulous.
If you don't have time to watch all the videos posted, try to make time to watch the first one. It is a complete documentary on North Korea made just a few years back by a British film crew who were granted unusual access to the insides of North Korean society. Even what they saw was just a glimpse and 90% of what takes place in North Korea remained off limits to them. Nonetheless it not only stunned me, it made me want to kiss the ground that I was born free and cherished as a citizen of the United States of America.
Photos from inside North Korea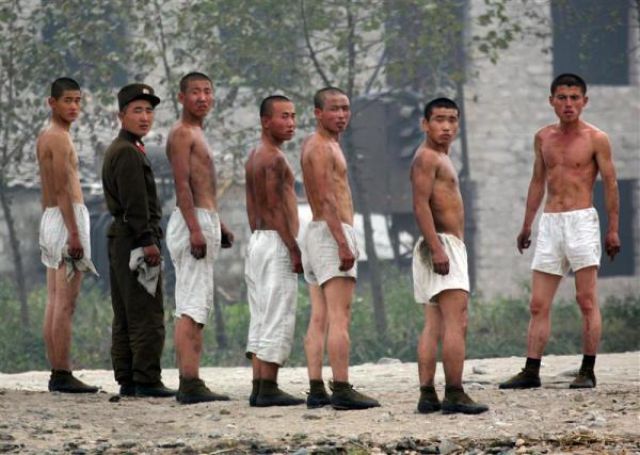 A few little known facts that I ascertained from watching these video reports:
At a certain point in time, as recently as 1994, it was literally against the law for any North Korean civilian to make eye contact with a foreign visitor or tourist.
Visiting journalists are forced to bow to all statuary and monuments to North Korean "Supreme Leaders" whether they wish to, or not. NOT to bow might be grounds for the immediate termination of the visit.
Visiting journalists are not allowed to query any North Korean citizen or State representative of the regime in public or private. Should a wrong question be presented, the visit is ended. Should a wrong answer be volunteered, the citizen or representative who gave this answer might spend the remainder of their life in a prison gulag for committing a crime against the State.
All hotel rooms in North Korea are bugged. Someone is always listening to all conversations held in those rooms.
Due to sanctions and the rarity of gasoline, North Korean streets are practically deserted. Foreign journalists from the UK video-taped a North Korean policewoman in an immaculate uniform directing traffic – that did not exist – in the center of a large empty thoroughfare.
No elderly or handicapped persons are visible on North Korean city streets. They have either been relocated to an undisclosed location outside of Pyongyang, or they are encourage to stay indoors. They are regarded as social "untouchables" for the most part. They are cast away.
Vast sums of money has been spent over the decades to create enormous monuments, displays, statuary and the like of the Kim Family dynasty which now sit desolate, as only a handful of foreign visitors arrive to tour these sites each week. Journalists were astounded at how desolate public squares and city monuments were in Pyongyang. Every locale was impeccably clean, and totally empty.
In Pyongyang, city block after city block of expensive high rise buildings and structures give the feeling of a pristine but deserted movie set. It's all been done for show for any foreign guests. Everything is empty, hotels, office buildings, city squares, civic centers. UK journalists speculated as to whether the greater part of Pyongyang had been built to prop up appearances and to boost the moral of a beaten down and starving population.
Chauffeur and taxi drivers in North Korea are under strict orders to speed from one destination to the next, dis-allowing a foreign guest from taking any unscheduled stops along the way. Queries placed to the driver about anything observed en route are ignored.
The majority of all human activity observed in city squares in Pyongyang pertains to locals rehearsing for six hours a day to appear in celebrations and pageants dedicated to North Korean leaders. Children rehearse for their parts in these pageants for six hours a day as well.
Journalists speculate that there are may be about 18 "State sanctioned hair styles" which may be worn by North Korean women. I found a possible photo of these styles with their numbers showing and posted it. Some writers suspect the same rules are in place for the North Korean men, as photos of their "State preferred" hair styles have been seen and documented as well. See photos.
Although the world long ago moved on from the Korean War of the early 1950s [ just as we have now normalized relations with Vietnam in the decades since the 1960s] North Korea is locked into a virtual zero forward movement "time freeze" around the events of the Korean War. Huge museum displays about the war are mandatory viewing for every North Korean citizen, including young children. These museum displays are graphic and horrible. Every child in North Korea is educated to loathe and despise America and Americans from babyhood. It's not unlike what takes place in the Muslim Mosques throughout the Mideast, regarding the generational inculcation of hatred of the West.
Every North Korean citizen is told, repeatedly, from infancy, that their "Supreme dear leader" has supernatural gifts. The Supreme Leader is regarded as somewhat of a living Deity on Earth. This macabre fairy tale has been kept going through three generations of the Kim family dynasty in North Korea. The entire nation is living as people enslaved in a cult might live, not unlike the notorious US based cult of Scientology. Newspapers, broadcasts, music, video, magazines or and sort of media from the outside world are strictly prohibited in North Korea. The entire population is kept completely ignorant of conditions and events from the outside world. Those who escape and live to learn about the actual world they live in are not only shocked by what they learn, they are stunned by how little they EVER knew about the real world from their upbringing in North Korea. They exhibit a peculiar type of "reality shock PTSD" that actually requires quite extensive counseling and even therapy to heal from. This healing and recovery process from their past in North Korea can take years to finally complete, if ever.
"Everyone is scared, permanently."- description of North Korean society given by a former propaganda writer from North Korea who swam to freedom in South Korea with his two daughters in recent years.
Life Inside North Korea:  2009 Video Report
Population
The population currently stands at around 24.45 million, according to the UN Population Division, a growth of 151% since 1950. The UN estimates that the North Korean population will rise to 24.55 million by 2100.
Corruption
North Korea is officially the world's most corrupt country, according to the
Corruption index 2011 from Transparency International, which ranks countries on a scale of one to ten. Kim Jong-il's homeland made its index debut this year with a score of one.
Capital punishment
North Korea ranks third for meting out the death penalty, behind China and Iran, according to Amnesty International's death penalty statistics. 60 people were executed there in 2010.
Military strength
According to the IISS Military Balance 2011, North Korea has 1.19 million people on active duty (1.02 million army personnel, 60,000 navy and 110,000 air), plus 189,000 active paramilitary personnel, and a further 600,000 reservists. 5.7 million North Koreans are reservists in the worker/peasant red guard, which is compulsory to the age of 60.
Nuclear capability
North Korea is a nuclear power, but only has two nuclear warheads (2009 est.), lagging far behind the world's other atomic powers. According to 2009 research by the Bulletin of Atomic Scientists, Russia has nearly 13,000, the US 9,500 and the UK 192.
North Korea v South Korea
Between 1958 and 2010 there were around 150 incidents between North Korea and South Korea (that we know about). The Datablog mapped them in 2010.
Poverty
North Korea scored 19.4 on the 2010 Global Hunger Index, a level classed as alarming by the International Food Policy Research Institute. The situation has worsened since 1990, when the country scored 16.2. The proportion of the population that is undernourished has risen from 21% to 32% in that time.
Peace
North Korea ranks 149th on the Institute for Economics & Peace's Global Peace Index 2011, with a score of 3.09. Only Somalia, Iraq, Sudan and Afghanistan are less peaceful.
Carbon dioxide emissions
North Korea ranks 44th on the world carbon emissions index (using 2009 figures from the Energy Information Administration), with a CO2 emissions level of 79.55m tonnes (3.51 tonnes per capita). That's an increase of 14.3% year on year, the 14th highest (a rapid increase is an indicator of economic growth).
Football
The North Korean football team scored one goal in the 2010 World Cup (though that was against Brazil), conceded 12 goals and received two yellow cards. They didn't make it beyond the group stage.
Tags: life in North Korea, North Korea, videos North Korea, photo gallery North Korea, fascism, socialism, Kim family dynasty North Korea
Related articles