This informative episode of Jesse Ventura's Conspiracy TV provides plenty of raw material for connecting the dots on another location where the US and global elites might be planning to hunker down during the worst of any coming civil unrest, world war or global pole wobble event in the coming decades.
The Ozarks are a highly logical location for survival, as the mountain range sits on a spine of solid bedrock which would most likely remain relatively stable during any serious geocrustal displacement, or pole shift event. Situated dead center in the middle of the United States, if the federal government ever had to literally relocate inland to keep the country intact during an east coast nuclear missile strike, the Ozarks, along with the greater Rocky Mountain range [ see research on Denver Colorado ] would be far enough from the fallout to remain safe, depending on weather patterns. West to east wind currents almost always carry weather fronts [ and any resultant radioactive fallout from an east coast nuclear strike ] from west to east, thus blowing much of the fallout out over the Atlantic ocean.
Tags: Illuminati, underground bunkers D.U.M.B.s Ozarks, Anthony Hilder, alternative news reports Illuminati, exposing Illuminati underground bunkers Ozarks, Alex Jones, alternative news reports Illuminati, Anthony Hilder, Christian County Headliner, Conspiracy, conspiracy theory TV, Conspiracy Theory with Jesse Ventura, D.U.M.B.S underground tunnels shelters, deep underground military bases, Donna Osborn, exposing Illuminati underground bunkers Ozarks, Illuminati, Mountain View Arkansas, Overwatch Systems FED surveillance plans Ozarks, Ozark, TruTV, underground bunkers D.U.M.B.s Ozarks, Underground city, Steven Huff
See also http://www.overwatch.com/
Re-posted with permission on 11.08.2011, Copyright 2011-3011 Chase Kyla Hunter & Alternative News Report, All Rights Reserved. Re-posts permitted leaving content, author, blog name, URL & copyright intact. Love this news blog? Shop here & support it! Read this news report live on the blog for the most current version:
On September 24th 2011 NASA announced that the lunar surface would now be a designated "no-fly" zone. To whom exactly were they making this announcement? And just in case you think your friendly neighborhood truth researcher has finally popped her cork, here's the post with the official NASA news briefing: http://alternativenewsreport.net/2011/09/24/nasa-no-fly-zones-moon/
The Nazis allegedly perfected a military circular flying machine during World War Two.
Urban legends linger whenever there may be a morsel of truth hidden somewhere therein. The lingering urban legend of renegade SS Nazi military officers colonizing both Antarctica and the moon has been around on the web for decades.
Early this year in January of 2011, after reading the online lore for years and years,  I finally decided to explore the lingering "urban legend" on the internet that renegade Nazi SS and high ranking military officials fled Germany and established an underground colony in Antarctica in the late 1930s and early 1940s as the war was winding down. I wrote a series of essays on this topic which are linked below:
The Mother of All WWII Era Legends: Nazi UFO Flying Saucer Technology Acquired From An Off-World Advanced Civilization
Mother of All Urban Legends, Parts 1 – 4:
http://photonicportal.wordpress.com/2011/02/12/nazi-ufos-aldebaran/
http://photonicportal.wordpress.com/2011/02/15/nazi-paleo-futurism/
http://photonicportal.wordpress.com/2011/02/20/mother-of-all-urban-legends-videos/
http://photonicportal.wordpress.com/2011/02/21/occult-history-nazi-swastika/
Crashed UFO Disc Found At Bottom of Baltic Sea
This story has been around on the internet since the very earliest days of the world wide web in 1994. Unsavory Neo-Nazi characters like Supriem D. Rockefeller have embellished the lingering legend with his tall tales of being a high ranking member of the Temple of Set cult [ several US military men have been either a member of this sect or have been members of the Church of Satan, not a comforting thought ] and frequently traveling to the moon from an underground Nazi base in Antarctica on a UFO that he described as the "sport model." Oddly, Bob Lazar also described a "sport model" UFO in his testimony as a former contract worker for Area 51 in the late 1980s.
The lines between urban myth and fact have long since blurred into mush regarding the topic of UFOs and secret military technology, thanks to a literal army of disinformation men hired by the CIA, newly formed in 1947, to make sure the truth on this issue was fully obfuscated from public view. Author Jim Marrs has outlined the lengths to which the CIA went to coverup the truth about highly advanced extra-terrestrial civilizations who have been monitoring our world for ages in his popular book "Alien Agenda."
But the truth, like an aggravating splinter, has a way of working itself to the surface over the decades. Just as the CIA deployed small armies of disinformation men to spew lies, half-truths, ridicule and misleading non-stories on UFOs into  the public media in the 1950s, 60s [even into the 1970s], as the last decade of the 20th century arrived, even larger armies of determined truth researchers converged into an aggregate force online, which began "outing" the submerged 50 year old UFO cover-up, one blog post at a time. By this time more than 50 trillion American tax dollars had been surreptitiously siphoned off the top of the federal budget annually, mysteriously funding a plethora of ongoing illegal and criminal "Black Ops."
These funds were stolen out of the annual USA budget and they account for a large portion of "where the money went" through the years, resulting in staggering federal deficits that now threaten the financial health of the nation for the next 100 years. These funds were misused by unauthorized and highly malevolent joint military projects  [ i.e. Dulce, Area 51 ] between off-world aliens and our own US military, used to achieve new and undreamed of American military technologies that are so heinous [ i.e. HAARP] that they could turn our own nation into a worldwide fascist superstate soon, if not confronted by American taxpayers and brought to justice.
Due to the efforts of determined truth researchers all over the world, the public outcry for "Disclosure" began to ring in the ears of federal officials by the late 1990s, many of whom had experienced UFO sightings themselves.
In the spring of 2001 Dr. Stephen Greer invited a panel of witnesses to give their testimony to the American public regarding the reality of UFOS, secret military technologies acquired from off-world aliens, and the horrific reality of UFO abductions. The public outcry for "Disclosure" became an ongoing roar that summer. Just when it seemed that public pressure on the federal government was finally going to yield some truthful results, 9-11 arrived.
The attention of an outraged and grieving nation was now immediately diverted from the call for "UFO Disclosure" to the question of how to deal with the Twin Towers attacks and who to go after. Voila. Problem solved. The secret ruling elites had killed two birds with one stone, and effectively silenced the roar of American and European voices for UFO disclosure, while advancing t heir war agenda in one sweeping gesture. As horrendous as such a thesis seems, I watched it all unfold and I stand by my claims. The thorn in the side of the American psyche regarding the truth about UFOs continues to burn and swell. We are confronted with strange news stories every month which point to an ongoing generational cover-up so colossal it staggers the mind.
I present below new videos which present a story which is not new by any means, but which now has been given new life in the 21st century by dazzling animation and sweeping renderings of Nazi / SS inhabited lunar vistas that would turn the head of the late Stanley Kubrick. If even any tiny portion of this fictionalized tale, "Iron Sky," is in fact true, then the American people have been on the receiving end of the biggest lie and military cover-up in world history.
It's easy to laugh off the movie below as  nothing more than "pop culture" and outrageously entertaining science fiction. Truth researchers know that one of the many ways the NWO elites "test" the receptivity of populations to certain facts, is to the present those facts as fiction in pop culture media and motion pictures. This has been shown time and again. Remember, it's always the "unimaginable" that takes one by surprise, when parts of it are shown to be factual over time. Our own military leaders who may still be sitting on such state secrets, if they are true, are legally and morally liable to the nation. They need to come forward and disclose what they know about secret US military collusion with off-world advanced civilizations, and how far back such collusion goes. They have been using our tax receipts to do this for more than 50 years. It's way past time for "Disclosure."
Chase Kyla Hunter, author, All Nibiru 247, Alternative News Report, Photonic Portal 2037 on 11.08.2011
"Iron Sky" Movie, The Videos:
Watch the full movie "Iron Sky" in HD here.
See also http://www.youtube.com/watch?v=dn0CME8WJh8&feature=related
Read my related 2009 report which includes extensive information about Supriem David Rockefeller in: "Where Is James Bond When You Need Him?"
Related articles
Re-posted with permission: Copyright 2011-3011 Chase Kyla Hunter & Alternative News Report, All Rights Reserved. All re-posts must leave all content, author, blog name, original URL location & copyright stamp intact. Love this news blog? Shop here & support it!
Copyright 2011-3011 By Chase Kyla Hunter, Updated July 2011
The now famous D.U.M.B.S. [ deep underground military bases ] military underground installations and underground bases
video below has been online for several years now, and is quite well known.  Many truth researchers believe this proves that the governments of the world know all about Nibiru, and are quietly making their own preparations for the survival of military and governing elites, while the rest of us run around online trying to figure out what is going on.
I am re-posting this very famous video as a reminder, for myself, and for all the hundreds and thousands of other "truthers" out there like me, who labor on into the night, trying to post enough of a smattering of actuality to shake the rest of the world out of its slumber and into proper spiritual action which is commensurate to the dangerous times we are living in.
Supporting documentation for the last video above is cited:
The first base is the Tejon RCS Facility owned by Northrop Grumman. 34 54'58.78″ N 118 30'20.73″ W
The second base is the Gray Butte RCS Facility owned by McDonnell Douglas. 34 33'21.72″ N 117 38'27.61″ W
The third base, which is confused for being Area 51, because of the underground installation, is Helendale Avionics Facility, owned by Lockheed Martin. 34 48'53.58″ N 117 15'24.53″ W
The fourth base, which is the strangest one is known as the Anthill. It looks like a Sumerian Zigurat. The base is connected to the hill. The road leading to the Anthill is called Mars Blvd, which is an appropiate name. There's other interesting places, such as a large building above the Anthill, but there wasn't enough time to show all these places. The roads leading off of Mars Blvd to the Anthill and other places such as the large building above the Anthill are called Edwards Airforce Station. The Anthill as well as the other bases shown in this video, are all in close proximity to each other, which suggests they may be connected to each other. Edwards Airforce Base is in the middle of the bases shown in this video. 34 51'47.23″ N 117 36'33.77″ W
The footage was filmed from an airplane by Gary Schultz. The audio is from an interview between Gary Schultz and Norio Hayakawa.
This website has information about these bases, http://www.thehowlandcompany.com/Bluefire.htm
The people at the helm on this world, the people who are in power, who own all the media outlets, corporations, mega-banks, currencies, and governments are not a benevolent crowd. They want us dumb, obese, zombi-ed out on TV and movies, and following whatever falls out of the mouth of a celebrity or the TV set. They do not want us spiritually awake and healthy, ready to reclaim our world and our civil and human rights.
If you do not believe these people have evil in mind, and are preparing for their own safety, while disregarding ours, then explain the videos displayed in this post. This is where your missing 40 trillion dollars went in the US economy. It's sitting down in those D.U.M.B.S. facilities deep beneath the earth.
I'll be watching the comments field.
See also Russians Building 5,000 New Bomb Shelters: Why?
Articles
Gorebridge Alien Base
Underground Infrastructure: The missing forty trillion dollars by Steven J. Smith
[2007] KUNDALINI TALES An interview with Richard SAUDER
[2003] SEVEN RIDDLES SUGGEST SECRET CITY BENEATH TOKYO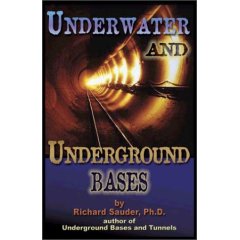 Dulce Security Officer Speaks Out
Deep Underground Military Bases and the Black Budget—Phil Schneider's last lecture of 1995
Dulce & Other Underground Bases and Tunnels by William Hamilton III
Nuclear Subselene Tunneling Machines On the Moon? by Richard Sauder, Ph.D.
"THE DULCE BASE"      by Jason Bishop III
FURTHER INVESTIGATIONS AT DULCE'S UNDERGROUND CLONING FACILITY by Fritz Springmeier
Peasemore
PINE GAP
RAF Rudloe Manor