When the work and research of some of America's most prestigious astronomers mysteriously disappears from Google search results and news archives, it does give one pause.  I have experienced repeatedly in my own research that many important evidenciary documents and videos frequently just vanish from the internet. I had one of my own research sites, of some 3,300 pages of originally authored content, just VANISH from the INTERNET with no explanation, in early 2013 – in very much the same way.
So I have no reason to think that Dr. Masters is just creating more 'internet drama'. His video below cites numerous instances when the work of a well known and respected astronomer has disappeared from the internet, especially if it alluded to hard scientific evidence that Planet X, aka Nibiru, aka a large mysterious non-visible to the naked eye BROWN DWARF star, was in fact, real and orbiting the remote edges of our solar system, heading inward, tugging on the mantle of the earth, creating all kinds of bizarre landmass aberrations which we do not know how to otherwise explain, odd events such as GIANT SINKHOLES, extreme weather oddities, a fast floating and more or less continuously displaced magnetic north pole, etc.
What also needs to be factored in are dramatic changes being observed in other planets in our own solar system. And there is the issue of DEAD ASTRONOMERS to consider.
This is an important video and worth watching and sharing. You can find more of Marshall Master's Planet X research at http://yowusa.com.
Last, but not least – Mr. Masters will be hard pressed to explain away the analysis below made by one living astronomer, who took the actual positioning data from R.S. Harrington's 1988 abstract, punched it in to his own astronomy software, and easily concluded in less than 9 minutes than the actual return of Planet X would not take place for another 300 to 400 years. Be sure to watch this next video. So if this is true, one has to ask WHY Google and the other "powers that be" are so busy removing videos, documents, research and other postings about Planet X from the internet? What gives?
See also:
http://screenshotsnews.net/browse-all-posts/2012-earth-changes/dead-astronomers-and-nibiru/
http://screenshotsnews.net/browse-all-posts/2012-earth-changes/
http://www.youtube.com/watch?v=mQ3Pz7gMh60&list=PLWWjR3qDcOXVNj2ulBBRNOp-h-O0_mdMd
Tags: brown dwarf, dead astronomers, Marshall Masters, solar system secrets, Nibiru, planet X, suppressed astronomy, blacklisted news, pole shift warning signs, weather changes, earth changes, giant sinkholes, Nibiru research suppressed
Re-posted with permission: Copyright 2011-3011 Chase Kyla Hunter & Alternative News Report, All Rights Reserved. All re-posts must leave all content, author, blog name, original URL location & copyright stamp intact. Love this news blog? Shop here & support it!
Copyright 2011-3011 By Chase Kyla Hunter, Updated July 2011
The now famous D.U.M.B.S. [ deep underground military bases ] military underground installations and underground bases
video below has been online for several years now, and is quite well known.  Many truth researchers believe this proves that the governments of the world know all about Nibiru, and are quietly making their own preparations for the survival of military and governing elites, while the rest of us run around online trying to figure out what is going on.
I am re-posting this very famous video as a reminder, for myself, and for all the hundreds and thousands of other "truthers" out there like me, who labor on into the night, trying to post enough of a smattering of actuality to shake the rest of the world out of its slumber and into proper spiritual action which is commensurate to the dangerous times we are living in.
Supporting documentation for the last video above is cited:
The first base is the Tejon RCS Facility owned by Northrop Grumman. 34 54'58.78″ N 118 30'20.73″ W
The second base is the Gray Butte RCS Facility owned by McDonnell Douglas. 34 33'21.72″ N 117 38'27.61″ W
The third base, which is confused for being Area 51, because of the underground installation, is Helendale Avionics Facility, owned by Lockheed Martin. 34 48'53.58″ N 117 15'24.53″ W
The fourth base, which is the strangest one is known as the Anthill. It looks like a Sumerian Zigurat. The base is connected to the hill. The road leading to the Anthill is called Mars Blvd, which is an appropiate name. There's other interesting places, such as a large building above the Anthill, but there wasn't enough time to show all these places. The roads leading off of Mars Blvd to the Anthill and other places such as the large building above the Anthill are called Edwards Airforce Station. The Anthill as well as the other bases shown in this video, are all in close proximity to each other, which suggests they may be connected to each other. Edwards Airforce Base is in the middle of the bases shown in this video. 34 51'47.23″ N 117 36'33.77″ W
The footage was filmed from an airplane by Gary Schultz. The audio is from an interview between Gary Schultz and Norio Hayakawa.
This website has information about these bases, http://www.thehowlandcompany.com/Bluefire.htm
The people at the helm on this world, the people who are in power, who own all the media outlets, corporations, mega-banks, currencies, and governments are not a benevolent crowd. They want us dumb, obese, zombi-ed out on TV and movies, and following whatever falls out of the mouth of a celebrity or the TV set. They do not want us spiritually awake and healthy, ready to reclaim our world and our civil and human rights.
If you do not believe these people have evil in mind, and are preparing for their own safety, while disregarding ours, then explain the videos displayed in this post. This is where your missing 40 trillion dollars went in the US economy. It's sitting down in those D.U.M.B.S. facilities deep beneath the earth.
I'll be watching the comments field.
See also Russians Building 5,000 New Bomb Shelters: Why?
Articles
Gorebridge Alien Base
Underground Infrastructure: The missing forty trillion dollars by Steven J. Smith
[2007] KUNDALINI TALES An interview with Richard SAUDER
[2003] SEVEN RIDDLES SUGGEST SECRET CITY BENEATH TOKYO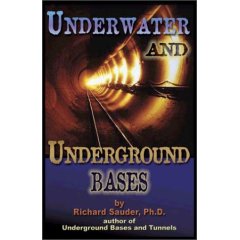 Dulce Security Officer Speaks Out
Deep Underground Military Bases and the Black Budget—Phil Schneider's last lecture of 1995
Dulce & Other Underground Bases and Tunnels by William Hamilton III
Nuclear Subselene Tunneling Machines On the Moon? by Richard Sauder, Ph.D.
"THE DULCE BASE"      by Jason Bishop III
FURTHER INVESTIGATIONS AT DULCE'S UNDERGROUND CLONING FACILITY by Fritz Springmeier
Peasemore
PINE GAP
RAF Rudloe Manor